Introducing the Autumn/Winter Self-Care Collection!
The new Autumn/Winter Collection is finally here! After months of planning, making and curating I'm so excited to share this collection with you. Click here to view the full collection, or scroll down to find out more about my absolute favourites from this collection!
The Autumn/Winter collection has been carefully curated to help you invite in those calm and cosy vibes and take some much needed Me Time. First up as part of the collection, we have the brand new Sweet Dreams Retreat box...
Sweet Dreams Retreat Gift Box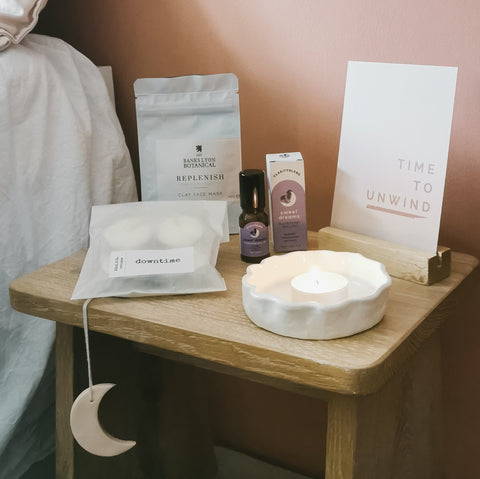 In need of some rest and relaxation? Indulge in this at-home retreat to help you enjoy a dreamy night's sleep! This luxury gift box includes access to on-demand yoga and breathwork classes, playlists as well as relaxing treats to help you to unwind and drift off.
This retreat box includes:
- Lessons from the Moon Clay Decoration
- Sweet Dreams Pulse Point Roller
- Replenish Face Mask
- Set of 4 Downtime tealight (Peppermint and Eucalyptus)
- Time to Unwind Mini Print
- Access to a Breathwork for Sleep guided class
- Access to a Restorative yoga class
- Access to a relaxing bedtime playlist
Limited Edition Wax Melt Advent Set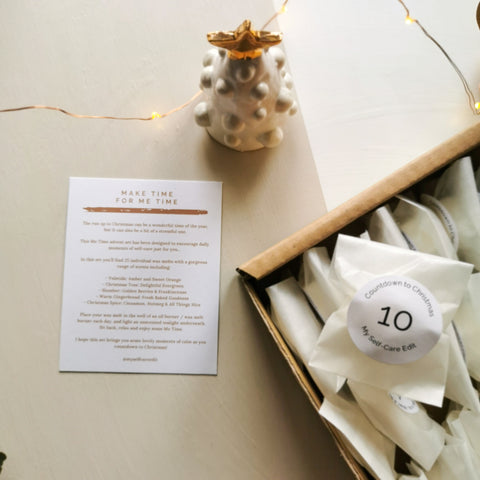 Treat yourself or someone you love to this Me Time Advent Calendar!
Countdown to Christmas with a different wax melt each day (25 in total), in a range of 5 gorgeous festive-inspired scents. Each star wax melt is in an individual numbered envelope to help you count down the days and enjoy some lovely Me Time.
Scents include:
Warm Gingerbread (my personal favourite!) - including notes of anise, ginger, cinnamon, clove and base notes of maple syrup, caramel and vanilla.
Slumber: Golden berries & Frankincense. Sparkling notes of Orange & Cassis. The heart of Apple, Golden Berries & Raspberry through a festive blend of Saffron, Clove & Frankincense.
Christmas Tree: A rich herbal fragrance dominated by Siberian Pine alongside Eucalyptus & precious woods.
Yuletide: Velvet like Amber, Incense & Musk are heightened with sweet Orange in this seductive scent. This fragrance creates an ambiance of warmth, sophistication & style. It is the ultimate luxury.
Christmas Spice: Captures the embodiment of the festive period. The freshness of the seasons is captured with the zest of the Lemons & Oranges. The warmth of the wood fire is embodied through spices such as Cinnamon, Ginger, Thyme & Nutmeg. A classic Christmas fragrance perfect for the spice lover.
Lessons From a Snowflake Decoration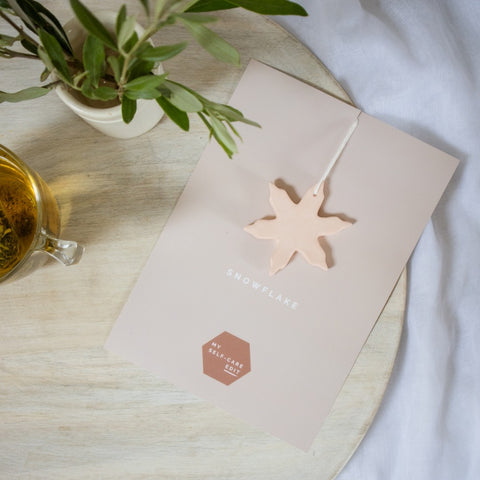 Exclusive to My Self-Care Edit (and handmade by Alice!). Share in some little lessons from snowflakes with this handmade clay hanging decoration, complete with 'Lessons' backing card.
Lessons include...
REFLECT YOUR LIGHT
Did you know that snowflakes are actually translucent, meaning that light passes through them but not directly. Snow looks white because the many sides of the ice crystals reflect the whole light spectrum. Just like snow reflects the light, we can choose what we reflect back out into the world. What will your light look like?
YOU ARE UNIQUE
Snowflakes are renowned for their uniqueness. No matter how many billions of them fall from the sky, there are never two the same. A snowflake doesn't try to imitate others, it simply embraces its unique self. Embrace your own amazing uniqueness.
YOU ARE NOT ALONE
Snowflakes are one of nature's most fragile things, but when they join together they can make something really special. Surround yourself with people who help you to grow and keep you supported - be part of the snowman left in the field even when everything else has melted.
GREAT THINGS TAKE TIME
A snowflake begins life as a tiny droplet of supercooled water which freezes in the sky to create an ice crystal. If the conditions are right it will begin to grow, as more water molecules clump together to form a snowflake. Growth happens slowly, enjoy the journey - great things take time.
Let me know your favourites from the new collection! 💕